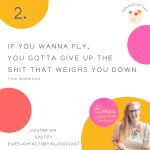 Deze aflevering is de waanzinnige zin: If you wanna fly, you gotta give up the shit that weighs you down – van Toni Morrison.
Ik praat je bij over wat je tegenhoud om te vliegen en hoe je die shit los kunt laten.
Voor de waanzinnig, nerdy, nutteloze weetjes duiken we heel kort in shit om vervolgens een onverwachte wending te maken richting 150 miljoen jaar geleden.
Veel plezier!
Lief, Evie
PS Wil je meepraten over een aflevering, doe dat dan via mijn Instagram of FaceBook. @eviesjoyfactory