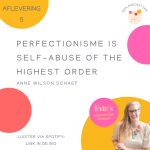 Perfectionisme is één van de krachtigste wapens die je tegen jezelf gebruikt en het erge is dat je dat elke dag doet!
In deze aflevering duik ik met je in de zin Perfectionism is self-abuse of the highest order van Anne Wilson Schaef. Ik vertel je meer over de vicieuze cirkel die perfectionisme is en hoe je jezelf meer kunt losmaken van jouw perfectionisme.
Veel luisterplezier!
Liefs, Evie
www.instagram.com/eviesjoyfactory